Thrive by Five Washington's Board of Directors announced today that Sam Whiting will lead the state's public-private partnership for early learning, ushering in a new era for the organization, which completed a merger with the Foundation for Early Learning last week. Whiting starts Jan. 31.
Whiting is currently a Community Investor for Education at The Boeing Company, leading the company's relationships with state and local education leaders as well as nonprofit education agencies working statewide to improve education outcomes from birth to high school graduation and beyond.
"The merger of Thrive and the Foundation for Early Learning is a big part of what drew me to this position," said Whiting, who knows well the work of both organizations. "You have two strong, credible organizations with great expertise, community connections and incredible commitment to the young children and families of our state. As one organization, we will continue to be a leader in the state's early learning efforts but now have increased capacity to provide a richer level of partnership and support to all of the organizations and people doing the good work of preparing kids for kindergarten."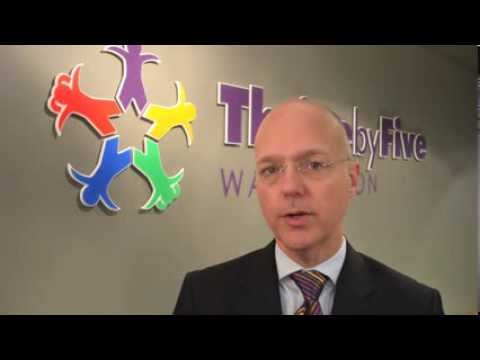 Before joining Boeing, Whiting spent almost two decades in nonprofit management in the arts, education and human services fields. He directed early childhood programs for Children's Home Society, including leading Head Start, family mental health, and maternal/child health programs. Whiting spent six years as executive director of Page Ahead, a statewide children's literacy nonprofit serving more than 50,000 children. He also served as Director of Foundation Projects for The Seattle Foundation.
Whiting is a board member for the Women's Funding Alliance and has volunteered on the boards for several other nonprofits. He received his master's degree in Not-for-Profit Leadership in 1997 and completed his doctoral coursework in 2011, both at Seattle University.
"Sam brings an incredible range of experiences – as a nonprofit executive, funder, board member and community leader – to his role at Thrive," said Kevin C. Washington, chair of the Board of Directors. "He is smart, thoughtful, articulate, strategic and passionate about ensuring that every child in our state is ready to succeed in school and life. He is the absolute right person for Thrive at this time in its history."
About Thrive by Five Washington
On Jan. 1, 2014, Thrive by Five Washington and the Foundation for Early Learning – two leaders in Washington's early learning efforts – merged with the goal of building community-wide commitment to deliver a comprehensive, high-quality early learning environment that benefits every child and family in Washington. Over the past decade, Thrive by Five Washington has been a leader in creating Washington's high-quality early learning system and combining public and private dollars to make it happen; the Foundation for Early Learning has been at the forefront of developing geographic, demographic and content-based alliances to develop and implement projects that serve families and their young children. Moving forward, Thrive will work in five key areas: helping to eliminate the opportunity gap with the state Early Learning Plan; deepening parent and caregiver knowledge of child development and school readiness; developing a high-quality home visiting system to serve at-risk families; providing grants that advance our programmatic work and mission; and building and mobilizing state, regional and local partnerships. Thrive has an annual budget of more than $16 million.